Engaging parents in their children's education is absolutely critical to those children's success. National education research overwhelmingly supports the finding that students do better academically and socially when parents and teachers work together and children show up on the first day of school ready to learn. Too many don't. Most teachers and administrators consider parent and family engagement to be the "missing link," but are often unsure how to effectively connect with parents/families/guardians.
HOME WORKS! helps forge that missing link, creating a positive structure within which parents and teachers can effectively cooperate for the good of their students.
---
Education Facts
Too many of our families are unaware of the importance of daily attendance, reading and talking with children at home, and stressing the importance of education because they did not experience these behaviors growing up. Others have multiple jobs and little time to provide academic enrichment at home. Teachers and administrators are often unsure of how to make the connection to home, and parents are often too uncomfortable, or unsure of how, to reach out to the school and accept new educational information and strategies. HOME WORKS! helps make that connection to build trust so parents and teachers become partners in students' education.
FACT: In Missouri in 2019, only 34% of 4th graders were proficient (on grade level) in reading and 31% of 8th graders were proficient in math. (National Assessment of Educational Progress, 2019)
FACT: In Missouri in 2019, 11% of high school students did not graduate on time. (Missouri Department of Elementary & Secondary Education)
FACT: 2/3 of all students who cannot read proficiently by the end of the 4th grade will end up in the criminal justice system or on welfare. The 4th grade is the watershed year. We can predict that if a child is not reading proficiently in the 4th grade, he or she will have approximately a 78% chance of not catching up. (Begin to Read, 2017)
FACT: Economically-disadvantaged students and students of color experience significant education disparities. Only 35.4% of low-income students and 25.7% of African-American students in Missouri achieve grade-level proficiency in English/Language Arts compared to 42.2% of students overall, and only 28.5% of low-income students and 18.5% of African-American students achieve grade-level proficiency in math compared to 41.2% of students overall. (Missouri Department of Elementary and Secondary Education, Missouri Assessment Program (MAP) Data, 2018)
To read more about the education and health of students in St. Louis, Missouri, and the U.S., take a look at these helpful websites:
---
How Missouri Public School Students Spend Their Time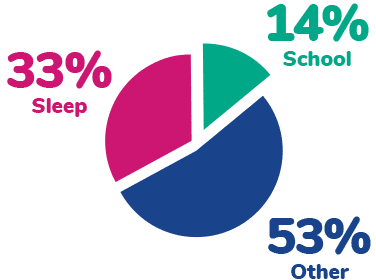 Most public school students in Missouri spend only 14% of their year in school (174 days a year times seven hours a day), yet we hold teachers 100% responsible for students' education. Students must have academic support from their homes to succeed in school and in life.