While attendance requirements vary by state and school district, students spend a small percentage of their waking hours in school. And during the pandemic, online and hybrid learning often have reduced the amount of time students spend with their teachers and classmates.
This makes it even more important for learning to happen at home. Research, including from the Global Family Research Project, shows how important it is for schools and families to develop trusting relationships. Their website has a blog, an archive, and other useful resources for how to create a more equitable "anywhere anytime learning ecology" for all children and families.
HOME WORKS! also is dedicated to ensuring that parents and families have what they need so they can partner with teachers and schools for their child's success.
From our work at Patrick Henry and other schools across St. Louis, we know that having regular communication with adults in the home helps teachers know if their students are paying attention. Are their iPads fully charged? Are there adults around to help the kids stay focused? Have they done their reading for class?
All parents and families need:
Internet access and training — So their kids know how to use the tools they've been given, from hardware such as iPads, to software for online reading, writing and submitting their work
Supplies — From paper and pencils, crayons, and glue sticks, to headphones, iPad stands and even alarm clocks, these necessary items may not be available at home, nor may the school have funding to provide them
Other training — Families may need guidance and periodic encouragement for how to help their children participate fully in school and homework
Relationships — Teachers and schools are most successful when they've developed a rapport with each family, so they understand the degree to which living circumstances and other factors may be impacting online, hybrid, or in-person learning
Whether you're a school, school system, nonprofit or group of volunteers, this survey can help you collect the information you need to be responsive to what each individual family needs.
You'll want to know:
Is the family connected to the internet and how (by hotspot, cable provider, other)?

Does the household have reliable electricity?

Do the students have well-lit, distraction-free study spaces and surfaces for school?

Do parents have the ability to support their students in using the required technology (e.g., video-meeting software, learning-management resources, office-productivity software such as Google Docs)?

Can the student or family members troubleshoot technical problems if they occur?
Some much bigger issues also impact learning, and may best be addressed by community resources. [link to the community page]
What economic, emotional, or social stability factors are there to consider (i.e., security and safety, living in transition, physical or emotional violence, fire risk or other building hazards)?

Are the students' nutritional needs being met?
HOME WORKS! has developed these tools that can be adapted by any school, non-profit, or volunteer corps to learn what families have and what they need. This information is critical for building trust and ensuring an active partnership between schools and families.
This tracker can help you manage what supplies have been requested and delivered, by whom, and when it might be time to replenish.
This survey can help you learn what a family has and what it needs. Volunteers can hand it out and collect it at orientation or other school events. Or they can conduct it over the phone with a family member.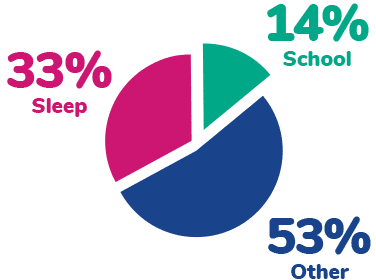 ---