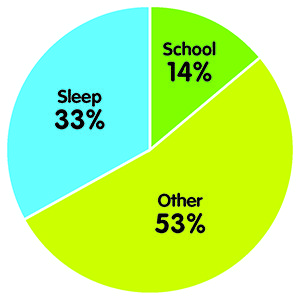 National education research overwhelmingly supports the finding that students do better academically and socially when parents and teachers work together and children show up on the first day of school ready to learn.  Too many don't.  Most teachers and administrators consider parent and family engagement to be the "missing link," but are often unsure how to effectively connect with parents/families/guardians.
FACT: One child in four grows up not knowing how to read. (Begin to Read, 2017)
FACT: 60% of children entering kindergarten are unprepared for school – that's approximately 4 million children. (United States Department of Education, 2015)
FACT: Less than a third of our nation's fourth-grade students are proficient in reading. Another third lack even basic reading skills. Fewer than one in five low-income students are proficient; over half are below basic (two or more years below grade level). (Education Trust, 2017)
FACT: 2/3 of all students who cannot read proficiently by the end of the 4th grade will end up in jail or on welfare. The 4th grade is the watershed year. We can predict that if a child is not reading proficiently in the 4th grade, he or she will have approximately a 78% chance of not catching up. (Begin to Read, 2017)
FACT: 66% of fourth-graders in Missouri read at a level not considered proficient; for eighth-graders, the figure is still at 64%. 62% of Missouri's fourth-graders perform at a level considered below proficient in mathematics; by eighth grade, that number swells to 69%. (National Assessment of Educational Progress, 2015)
FACT: The nation's large and persistent education achievement gaps are rooted in a largely hidden crisis of chronic absenteeism from school, especially among low-income and minority children. Over 10% of our nation's children are chronically absent from elementary and middle school; by the time these students reach high school, that figure jumps to 20%. (Washington Post, 2015 & United States Department of Education, 2016)
FACT: Children who are chronically absent in preschool, kindergarten, and first grade are much less likely to read at grade level by the third grade. Students who cannot read at grade level by the end of third grade are four times more likely than proficient readers to drop out of high school. (United States Department of Education, 2016)
FACT: Irregular attendance can be a better predictor of whether students will drop out before graduation than test scores. A study of public school students in Utah found that an incidence of chronic absenteeism in even a single year between 8th and 12th grade was associated with a seven-fold increase in the likelihood of dropping out. (United States Department of Education, 2016)
FACT: In 2015, 12% of Missouri's high school students did not graduate on time. (Governing Magazine)
FACT: Every 26 seconds one of our children drops out of high school—that's 1.3 million students each year. On average, only 72% of America's children graduate from high school. (American Graduate, 2017)
FACT: Approximately 40% of all African-American and Latino students who start ninth grade will not graduate with their peers four years later. And too many high school graduates are woefully unprepared for the demands of college and careers. (Education Trust, 2017)
FACT: Research indicates that children from low socio-economic status (SES) households and communities develop academic skills more slowly compared to children from higher SES groups. Initial academic skills are correlated with the home environment, where low literacy environments and chronic stress negatively affect a child's pre-academic skills. (American Psychological Association, 2017)
FACT: Children entering kindergarten from families with very low incomes are 12-14 months behind in language and pre-reading skills, compared with children in higher-income families, where reading books and engaging in regular conversations with adults help to build much larger vocabularies. (B. Hart & T.R. Risley)
St. Louis, and indeed the entire U.S., is losing tens of thousands of young people who end up graduating functionally illiterate, or dropping out, or incarcerated, or in low-paying, dead-end jobs, or engaged in illicit activities, rather than becoming productive, employable members of society. All of this is less likely to happen if they have an academically healthy start in life, enter school ready to learn which enables them to stay in school, graduate, and go to college or trade school.
Teachers and principals are desperate for parents/guardians/families to be more involved. Federal requirements under No Child Left Behind legislation call for providing school districts assistance in developing parental involvement programs to further the effort to improve the academic achievement of students in under-performing schools.